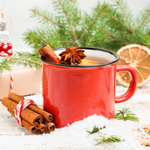 Winter is here, and the chill in the air makes for the perfect time to sip on a cup of tea to get warm and cozy. Here are a handful of delicious and easy high tea recipes to try at home and make the most of this season.
Citrus Tea
This soothing, sweet and fruity tea is the perfect beverage for a relaxing, stress-free afternoon. A delectable blend of citrus freshness and the warm sweet notes of honey, this brew is easy to make and a delight to relish.
Ingredients
¼ cup orange juice
2 tablespoons sugar
1 tablespoon honey
¼ cup cold water
1½ teaspoons lemon juice
1½ teaspoons lime juice
1 cup water
1 teaspoon (2.5g)

Earl Grey

tea
Orange slices (optional)
Directions
In a small stainless-steel pot, combine orange juice, sugar, honey, cold water, lemon juice, and lime juice. Bring to boiling over medium-high heat, stirring constantly. Remove from heat; and let stand 10 minutes.
Place this citrus mixture in a blender; cover and blend for 30 seconds. Strain the citrus mixture and discard any solids.
To serve, bring 1 cup of water to boiling in a stainless-steel pot. Remove from heat. Add Earl Grey tea; steep for 3-5 minutes. Strain and discard to make your cup of tea.
Stir strained citrus mixture into your brew. Garnish each serving with orange slices if you wish. Makes 1 serving.
Spiced Apple Tea
A winter day is incomplete without a warm cup of Spiced Apple tea. The delicious mix of sweet and spicy notes makes this blend a great way to chase away the chill. Inspired by mulled wine, this fragrant tea is a must-have.
Ingredients
¼ tablespoon lemon juice
1-2 lemon peel strips
½ cup apple juice
½ cup water
1 4-inch cinnamon stick
1 tablespoon whole cardamom pods (crushed)
1 teaspoon whole cloves
1 teaspoon (2.5g) English Breakfast tea
½ tablespoon maple syrup/honey
Thin apple slices (optional)
Directions
Combine apple juice, water, and 1 tablespoon of the lemon juice in a stainless-steel pot. For the spice bag, place cinnamon, cardamom, cloves, and the lemon peel strips in the center of a 6-inch square of cotton cheesecloth. Bring corners together and tie with a clean string. Add bag to apple juice mixture

Bring mixture to boiling; reduce heat. Cover and simmer 10 minutes. Remove from heat. Add tea and let it steep for 3-5 minutes. Remove spice bag, strain out the tea and discard them.

Stir in maple syrup or honey. Serve in mugs. If desired, float apple slices on top of each serving. Makes 1 serving.
Chamomile Hot Toddy
A Hot Toddy is a warm whiskey or bourbon drink that originated in Ireland; however, it is now enjoyed all over the world. It is typically paired with tea. Brew yourself this warm, soothing nightcap for a restful sleep.
Ingredients
1 heaped teaspoon (2g) of Chamomile Green tea
1 shot whiskey (1-2 oz)
1 tablespoon honey
1 lemon
Dash of lemon
Method
Brew the chamomile tea by steeping the loose leaf in 180ml (6 fl. oz) of freshly boiled water, at 80-90°C/176-194°F. Let it steep for 3-4 minutes.
Once steeped, remove the loose leaf and stir in the honey, a dash of lemon juice and the shot of whiskey.
Add slices of lemon to serve. Makes 1 serving.
And there you have it, a medley of flavors to see you through the winter months. While the weather outside might be frightful, our warm winter brews are delightful!