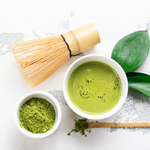 Steeped in tradition, and the linchpin of traditional Japanese tea ceremonies, Matcha tea is celebrated for its nutritional value as well as its deep vegetal flavour, and is now taking the world by storm as the superfood of choice for millions.
However, it is far from just any old steeping tea. With matcha, you consume the whole leaf, so you're getting all the phytonutrients of the tea. How then, is such a cup brewed? Read on to find out how to make the perfect cup of Matcha Tea.
1. Set out your apparatus
Unsurprisingly, Matcha takes more than just some hot water and a kettle to get going. The traditional method includes a handmade bamboo whisk (called a chasen), a tea bowl (matcha-chawan), a measuring ladle (chashaku), a tea strainer, and—of course—your matcha powder. However, you need not feel pressured to obtain these for the right experience; a good bowl of matcha can also be made off a regular bowl and a frother.
2. Sift your Matcha
Since Matcha is so fine, it often tends to clump together. This can affect the flavour as well as the drinking experience of the brew, so it is best to sift the Matcha through a strainer to get a fine, green powder. Use about 2g (1tsp) of Matcha per cup.
3. Pour and Whisk
Pour about 60ml (or 1/3 a cup) of freshly boiled water (at about 80-88°C) into the bowl and whisk with your chasen in either a circular motion for a thin, smooth drink, or a vigorous 'W' motion for a frothy cup of Matcha. This is to evenly distribute the Matcha and ensure a smooth cup. You can also achieve the latter effect using a frother.
4. Transfer, Fill and Enjoy
Transfer your mixture of water and Matcha and water carefully to the bowl/cup you wish to drink from and pour in the remainder of the cup to have yourself the perfect cup of Matcha Tea.
And that is all there is to making the perfect cup of Matcha Tea. Of course, there are a few other considerations to keep in mind. Do remember to not leave it too long; as the matcha will begin to settle at the bottom and create an uneven flavour. Also avoid reheating your matcha under all circumstances, as this will burn the tea and give a bitter taste. With these tips in mind, you are now set to savour the flavour of Matcha! You can check
here
for a selection of delectable Matcha Blends by McLeod Russel.