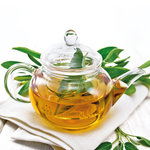 Often touted as one of the healthiest beverages on earth, Green Teas are one of the richest sources of beneficial antioxidants in the world, and have a plethora of powerful health benefits. Here's a quick peek at some of the many benefits to indulging in a cup of green tea every day!
Rich Source of Antioxidants 

Green teas contain a catechin (natural antioxidant) called EGCG (Epigallocatechin-3-gallate) which is a powerful antioxidant that helps neutralize harmful free radicals, prevent cell damage and reduce the risk of chronic diseases.

Helps Improve Brain Functions

Besides caffeine, green teas also contain an amino-acid called L-theanine that helps in increasing the alpha-activity of our brain, reduces anxiety, and increases dopamine. L-theanine and caffeine together give a milder, more stable energy and help us be more focused and productive than coffee.
Aids Weight Loss

Studies have shown that drinking green tea regularly can aid weight loss by decreasing the dangerous visceral fat on our abdomen. Research also suggests that green tea helps in increased fat burning and also boosts our metabolism.

Lower Risk of Certain Cancers

The powerful antioxidants in Green Tea protect us from oxidative damage and reduce the risk of certain cancers like Breast cancer, prostate cancer, and colorectal cancer.

Helps Prevent Type-2 Diabetes

Several studies have shown that green teas cause reductions in blood sugar levels by improving insulin sensitivity and also lower the risk of Type-2 Diabetes.
There are several other benefits to drinking green teas, especially when combined with other health-boosting ingredients like Chamomile, Cinnamon, Mint, and Tulsi. The best way to know the full scope of the benefits these blends provide, however, is to try them yourself. You can find out more about premium blends of fine green tea with immunity boosting ingredients like Cinnamon and Turmeric tea.